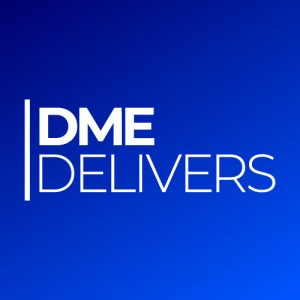 DME Delivers is a vertically integrated marketing solutions company that provides a single source partner for your marketing and communication needs.  They utilize industry experience and technology to: plan and account manage, design, program and print variable communications, source promotional products, partnered with a complete turnkey fulfillment process.  Additionally, we can facilitate this process as one campaign or multiple at your desired communication schedule, whether that is monthly, weekly, or even daily as the marketing plan dictates.
Working with DME Delivers provides you ability to communicate effectively with students and alumni on a schedule that meets your needs and drives engagement throughout the marketing process.
DME Delivers can also leverage their proprietary e-commerce platform to engage and elevate your campaigns.  Students and Alumni will be able to redeem their university branded merchandise by simply visiting our proprietary e-commerce site that will carry the university branding, then enter their unique access code.
DME Delivers
2441 Bellevue Ave
Daytona Beach, FL 32118
Contacts:
Joe Lovecchio
Sales
(386) 868.1969
joe.lovecchio@dmedelivers.com
Tye Edwards
Sales
(386) 222-3095
tye.edwards@DMEdelivers.com