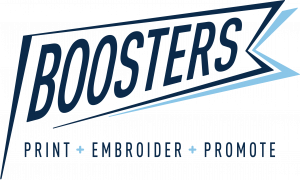 Boosters, Incorporated founded in Montgomery, Alabama in 1962, has been helping high schools and companies promote themselves for over 50 years.  Everyone remembers the Booster badges for which Boosters holds the patent, but Boosters also embroiders and screen prints in house.  This provides our customers with quicker turn- around time, better quality control, as well as superior customer service.  Our on staff artists make producing the final product more efficient.
Jere Beasley, Auburn Alum '83 will be the Account Executive.  Three of Jere's five daughters have graduated from Auburn University. Jere also brings with him 17 years of experience working at Boosters and is a member of the Auburn Chamber of Commerce. Jere specializes in creative, cutting edge promotional products that are delivered correctly and on time. He will be readily available for meetings.
Boosters provides free art services, product samples, and in person consultations.  Most importantly, we deliver complete satisfaction.  We strive not only to make Auburn University look good, but also the person placing the orders.
Boosters looks forward to working with many happy Auburn University customers. It is our pleasure to serve you!
Boosters Incorporated
2509 East 5th Street
Montgomery, AL 36107
800.633.1906
Contacts:
Jere Beasley, Jr.
(334) 300.5472
jereb@boostersinc.net